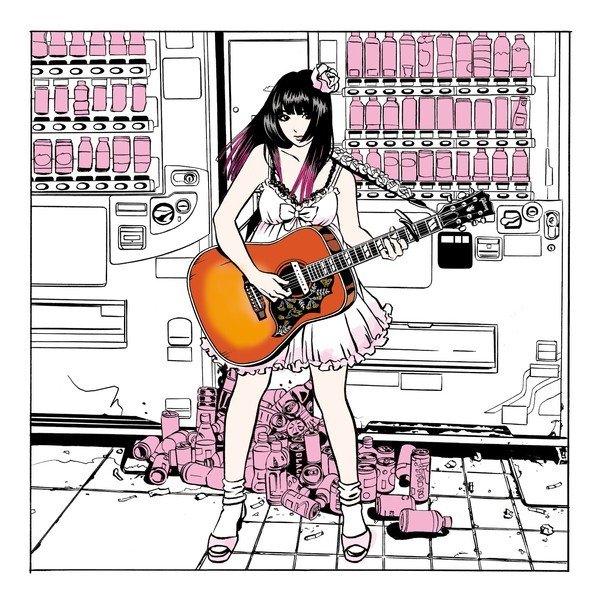 2017 has been the most turbulent year yet for Seiko Oomori fans . Not only did Oomori release a major album, she also released a plethora of singles, music videos, collaborations, wrote songs for other acts, live material and now this, "MUTEKI"- her second album for the year. It's quite amazing really, knowing she's also a parent while all of this is going on.
Recently, Seiko Oomori has been pushing herself on a thematic level; Religion, Sexism, Idol Culture were all staples of March's "kitixxxgaia". The massive expanse in sound was exciting and breathtaking, and while many were keen for this exploration, it undoubtedly left some of her earlier fans behind.
MUTEKI then, is probably a breath of relief by those left a bit perplexed by Seiko's excesses. With this album, Seiko gives a spine chilling collection of her greatest moments, stripped down to their essence, trading in fanfare for naked truth- and it works to a soul shaking tee.
Let's talk about the odd ones out here first, the new tracks- they are full studio productions- and they are both rather good. You have the opener, "Ryuusei Heaven", a jazzy ballad with some really hard hitting lyrics and "Mix Juice", a cute, bouncy coming of age track that while probably a minute too long, is still a lot of fun.
The rest of the album is as mentioned above, stripped down versions of Seiko's biggest songs from the last few years. It must be noted that it feels like Seiko never aimed to create a definitive version of any of these songs- just a new experience. Which version you end up liking entirely comes down to taste; personally I feel "SHINPIN" reveals itself for the first time here- but others may opt for the style of the Sakurai Kenta original.
Outsiders might look upon this release as being pure fan service- and they wouldn't be wrong. That's what Seiko is really going for here- it's a love letter to her followers. The songs are all chosen by her fans and are mainly comprised of more obvious choices ("Midnight Seijun Isei Kouyuu", "TOKYO BLACK HOLE", "Magic Mirror" etc.). While this was at first a bit of a let-down- how many times do we really need "Kimi to Eiga" acoustic, honestly? – ultimately, I found myself falling in love with these tracks once again.
Unlike other 'acoustic' releases by Seiko- these are produced in a much more professional setting with sugarbeans at the helm (producer and piano). What are brought forth are tracks that are wonderfully realized, enveloped in a gorgeous studio hiss that feels like a warm hug. Sugarbeans adds his incredible piano work to some of these tracks and Seiko's vocals have a sense of control unheard before on other bare-bones recordings.
Sure, because of its nature, the album never really feels like a 'proper' album as such, the 'collection' feel is very much present throughout its (admittedly over-long) runtime. However, despite that large quantity of material here- the vast majority of it is quality enough for repeat returns. Like many other people have noted- every time you start to fade out, Seiko hits you with a track that you adore and grabs your attention once again.  Every song represented on here is strong or notable to begin with- and presented in Seiko's trademark stripped down style makes it all the more appetizing.
MUTEKI is capped off with the addition of a DVD of the kitixxxgaia tour finale, a roaring, amazing set that showcases Seiko Oomori at her absolute live best. It's almost 2 hours of power, wildly energetic performances, a varied and unique setlist and likely this reviewer's favourite Seiko Oomori concert so far.
Overall, MUTEKI is one of the best packages you're going to pick up in J-pop this year, and would work both as a collection of alternative versions of songs for hard-core fans, and as a good introduction to newcomers to some of Seiko's biggest hits. It's perfectly imperfect, and fitting of Seiko's persona. It feels like more than just a mere best of, and the amount of love and care put into it really shines through. It no doubt will float very well among those who experience it, and I dare say it will be many people's favorite Seiko Oomori release this year.
At the very least, you get a bang for your buck, and the amount of quality material on this is worthy of purchase alone.
8/10– Another great Seiko Oomori release. Can't wait to see what she has in store for us next!